Lake Mary Upcoming Football Season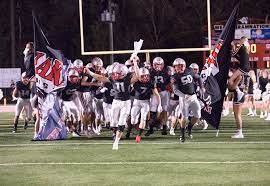 This years upcoming varsity football team is very promising and has many things coming back to the stands and games. Last week was the teams first preseason game, and the Rams dominated the entire game winning 23-7 and scoring 16 points in the first quarter.The games are back at 100% capacity for the first time since the 2019 season, and the games are back to there electrifying element! The crowd last week was getting hyped and the student section showed a lot of school spirit.
Offensive linemen Eli Grubbs says, "this is one of the best teams that we have had in a while and if we play well the possibilities are endless this year. Our schedule is tough but we are tough too." This is after I asked him about the upcoming season. Eli is right about the season being difficult this year, they play defending state champs, Seminole. Lake Gibson this week who has a 4-star running-back recruit who is committed to Utah and Winter Park who has multiple D1 recruits.
Outside linebacker Gabe Nelly says, "Our defense is the strongest point on our team. If our defense comes out to play no matter how hard the game we will come out on top." This is after I asked him about are biggest strength on out team. Our defensive corp has multiple players with D1 offers. The team is filled with veteran players, having 8 seniors on the team who are very experienced.
Freshman team middle linebacker Jake Berman says, "We have a great freshman group and we should have a good year and some of us should get called up for varsity at the end of the year."  This is after I asked him about the freshman team. Jake is right about this, the freshman group has the most potential in a team that this school has seen in years.
The Lake Mary Rams are currently ranked 29th in the state of Florida and 9th in the Orlando area and have a bright future for the upcoming season. They have a tightly nodded team with a lot of heart that plays together, and I am very excited to see how the team does this year.
Leave a Comment