What is the best fast-food restaurants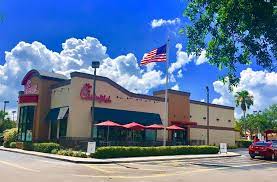 There are many different fast-food restaurants that are always guaranteed to give you a good meal,  but what is the undisputed best fast-food restaurant that gives you a quality experience every-time you go. The only fair way to settle this dispute is by taking a poll with 20 Lake Mary High students to find out what the actual best fast food place is. When giving the poll I will tell them to rate the restaurant not just based off of food but the quality of service as well.
In my opinion like many of the poll takers Chic-Fil-A is my top rated fast food restaurant. Chic-Fil-A gives you the feel of a sit down restaurant experience while being a affordable fast food restaurant. Chic-Fil-A has the best service out of all fast food restaurants and most sit down restaurants in the country. Every employee there is always trying to serve the customer first and they are always respectful no matter what. The food at Chic-Fil-a also has the most quality out of all fast food restaurants being versatile with everything that they serve.
From the 20 Lake Mary students that I interviewed 11 said that Chic-Fil-A is the best, 5 students voted for Chipotle, two coffee feens voted for Starbucks, 1 voted for Mcdonalds, and 1 student voted for Taco Bell.
Freshman Juan said "Chic-Fil-A is my favorite restaurant because everything that they have on their menu goes hard, their shakes, the special sauce, and the best sandwiches ever.
When I asked freshman football player Jack Lorenz on why he chose Chipotle he said"Chipotle is my favorite places to get food from in general. It is a meal that will fill me up after I go to after the gym and I've been getting the same order for years and haven't gotten tired of it. "
When I asked freshman Aliyah Ganas why Starbucks she said"I love going on my Starbucks runs in the mornings and getting a cold pink drink."
Similar to what I predicted Chic-Fil-A is throned as the best fast food restaurant with the majority of students choosing them as there favorite fast food meal and Chipotle coming in a close second.
Leave a Comment