March Madness 2022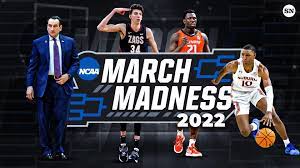 This March Madness was one to never forget. The amount of upsets and intense endings were unreal. Every game had a crazy amount of top plays and every player stepped up in the big moment. The worst part about march madness is that its one and done, so if your team loses once you are out of the tournament and have no other chance to win a championship. Everybody has a different team they cheer for and what there expectations were for the tournament.
Jake, a junior at Lake Mary High School said "I was in my feelings when I watched my favorite team the Kentucky Wildcats lose in the first round. They got upset by Saint Peters, who was a 15 seed while we were a 2 seed."
Saint Peters was the very first 15 seed who made it to the elite eight. They started this run first by beating the 2 seed Kentucky Wildcats in the Round of 64 in overtime. The peacocks continued their run by beating the 7 seed Murray St by 10 in the round of 32, they continued on by beating the Purdue Boil makers in the sweet sixteen. However Saint Peters tournament run ended in the elite eight to the North Carolina Tar Heels. This tournament gave a lot of attention to the program, players, and coaches at this small school.
Toby, a senior at Seminole High School said " I was very upset to see my team the Texas Longhorns lose in the second round to the Purdue Boil-makers. The referees gave Purdue 45 free throws which is super unfair to us because that lost us the game from all of the free shots they got that game."
The National Championship game was the North Carolina Tar Heels against the Kansas Jayhawks. The game started off back and forth and both teams were lighting git up. Then the last 8 minutes of the first half the Tar Heels take a demanding lead and take control and by halftime they are winning 40-25. The second half starts and Kansas jumps to a fast start and goes on a 19-4 run. Kansas then takes a 56-50 lead with 9 minutes left. The game ends up going back and forth the rest of the second half an then with 4.2 seconds left North Carolina has the ball down by 3 and the star player Caleb love misses the shot to send the game to overtime. The Kansas Jayhawks became the 2022 National Champions.
Leave a Comment