Violence in high school sports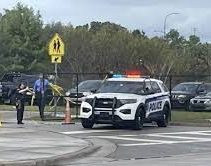 Unsportsmanlike activity during and after games
Violence in high school sports is a real problem. Talking trash and toxicity have always been a part of sports, aggression not so much. Lately aggression has been pretty regular in sports, making things dangerous for the athletes and the audience. Sadly some of this aggression leads to people losing their lives. Threats could very well lead to stampedes of people trying to rush out of the stands trampling innocent people. This even comes from high school sports.
Student killed in shooting after high school football game
After Saturday's game at Jones High school shots rang out leaving a 19-year old student dead. The body was identified as Gamaine Patrick Brown on November 12th 2022. Officers confiscated a gun, later being found unrelated to the shooting. The Orlando Police force says the shooting was triggered by an argument. This just shows the problem with violence in high school sports. Unfortunately a pastor's 21-year old son DeAndre Jackson, was struck by a stray bullet. Jackson and Brown were good friends sadly being separated by a violent act. It's so unfortunate to see this violence not just in sports but the school itself.
Leave a Comment