Pope Francis Grants Sainthood to Lake Mary High School Teacher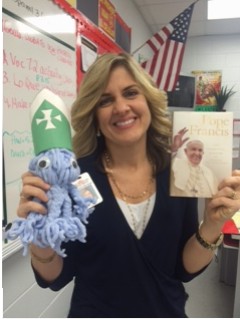 Kirsten K., Campus Editor
April 4, 2016
Yes, that's right Rams you heard it first from the Rampage.  One of our teachers was just recently granted sainthood from Pope Francis himself.  Señora Gavilanes or should I say Saint Gavilanes is now the voice of Lake Mary High School students.
As we all know Señora is one of the most caring teachers.  Her motherly instincts always kick in when she knows her students are stressed.  From her famous café (coffee) and crazy life stories, she has finally out done herself by complaining that students are given too much homework over breaks.
As a high school student we are expected to make good grades, balance a job, balance sports, chores, family, volunteer hours and the list goes on.  The four breaks a school year including Thanksgiving, winter, spring and summer are intended to be "well deserved" breaks from our hectic lives but how can we rejuvenate ourselves when we are consumed in projects, book reports, worksheets etc.?  While teachers oh-so-happily tell you to enjoy this break and to relax because you "deserve it", they pull a 360 and throw a book report at you.
I think I speak for most when I say us students understand that teachers have a curriculum and requirements they must meet in a certain time frame that mean we will have some work over break, but when it becomes all 4 core classes that fall into this "unique situation" it becomes overwhelming.  Junior Ashley Travis said, "I go on vacation during school breaks and find myself always doing homework either in the car ride or in my room while my family is all together."  She complains that during the school week her life is so hectic she can not spend quality time with her family and friends and therefore looks forward to these breaks.
When I sat down and talked with Gavilanes she exclaimed, "Family is important and should be the main priority."  She acknowledged that students are under a lot of stress and deserve a true "break" from schoolwork.  Her Hispanic culture revolves around the family unit and cherishes that closely.  Listening to her share about her views on the subject was inspiring and made me reevaluate my own relationship with my family.  I realized that it is important to take time to spend with family and when I thought about any free moment I had, it was planned for studying or homework.  The saint herself proposed the idea of no homework over breaks and has not heard back on the decision but I know she has full support from the student body.