Battle of the Lakes

As long as anyone can remember, Lake Mary and Lake Brantley have had an intense rivalry. Every year leading up to the Battle of the Lakes football game, both schools get pretty intense with their preparation. Here at Lake Mary, we turn our campus into a battleground- dressing up in camo as if we are soldiers going into battle, which in a way we are. Last year we even gave ourselves fake black eyes, busted lips, fake casts, and other false injuries to contribute to the 'beat' Brantley week. A source from Brantley says every year they come up with new t-shirts and one year they even hung a stuffed ram in one of their trees. Both schools take the game extremely serious.
From 2004 to 2012, Lake Brantley had taken the won the Battle of the Lakes game- many of them being on our own field. In 2013, Lake Mary broke their streak and came out on top with a score of 37-28. After most games, whether it's home or away, some sort of brawl breaks out. PVC pipes have been swung, bushes have been lit on fire, students have been attacked in the stands, and our lady rams are nastily catcalled while walking through parking lots on their way to the stadium to witness the battle.
"After the game this year I was walking through the parking lot with a friend of mine when a group of Brantley guys yelled out to us saying to 'get out of our parking lot you-" the term he called us wasn't the nicest. But I wasn't offended at all, I called out 'scoreboard!' and kept walking. They can yell all they want but they can't change the score or our Ramily's dedication to our team," senior Sarah McCullough said.
"I've personally never experienced any sort of harassment from Brantley kids. But I definitely love the Brantley game more than others because the student section is always overflowing- some of our students even have to sit in the parent section," Kayla Janas, Marionette Captain, said.
"The feeling of being on the field during a Brantley game is so live and something you'll never forget," senior Stanley Souverain said.
Out of all the traditions we have at Lake Mary, "Beat Brantley Week" holds a special spot in all of our hearts- especially when we can say we won.
About the Writer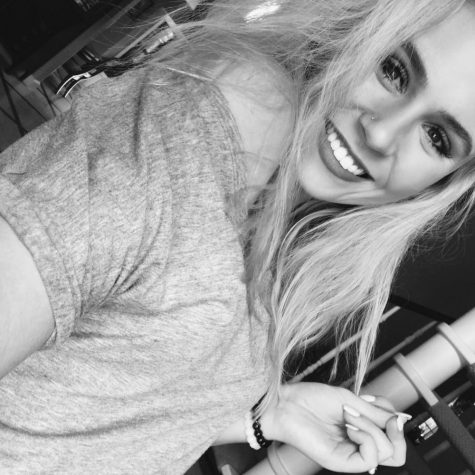 Lauren Reid, Feature Editor
Lauren is a senior this 2017-2018 school year. This is her second year as a staff member of the Rampage. She is undecided with which university she wishes...