One Stroke Short
The Lake Mary High School golf team is notorious for contending in the state championship with back to back state championships only two years ago. This years starting lineup consisting of Senior Zach Kalia, Senior Daniel Battillo, Sophomore Taylor McGerity, Sophomore Coleman Barnes, and Freshman Dehan van Staden. This is how their season went.
What's the most memorable moment you guys have had this season?

Zach K-"The most memorable moment for me was shooting a 68 at plantation bay. Even though I didn't win it gave me a lot of confidence going into the next event."

Coleman B-"The most memorable moment for me was when we were all at Tijuana flats and zach drank the hottest hot sauce in the hot sauce bar for $30"

Is there anything intriguing about the team this year?

Daniel B- "Lake Mary golf is stacked with kids who have been playing golf together for years so the relationships between players is much better than that of other teams and that helps us play as a team."
Zach K- "We played at the Old Course at St. Andrews because it is the home of golf and all of the greatest golfers have played there. It's the first golf course ever built."
What traditions does your team follow?

Zach K- "A tradition we have is to play the going home drill at the end of every practice. It helps put you in a pressure situation to hit a good chip and putt."
What was the most memorable team moment?

Zack K- "The best moment this year was the last meeting at Duffys. After we lost regionals by one shot. We still came together as a team even though it was heartbreaking it brought us closer together. The coaches told us we win as a team we loss at a team that comment really stuck with me. I think we all grew as a team after that loss. That is what separates Lake Mary compared to any other school."

Senior advice to someone looking to tryout?

Zach K- "My advice for the incoming freshman and other players would be to work as hard as you can. If you prepared and grinded 120% and come up short there is nothing wrong with that. You can not succeed if you don't fail. You need to learn from those mistakes and correct them for the next time."

Daniel B- "The best thing you can do to get better as a freshman golfer is to play in competitive events."

Biggest Rival?
Zach K- "Winter park was during the regular season."
Explain the events that lead up to losing by one stroke, to qualify for states?
Daniel B- "In our last match which was the regional championship our team didn't look to be in the position to win after playing the front nine holes but as a team we shot even on the back nine putting us almost on top of the leaderboard, with the last two groups finishing their final holes we were looking good but when the final score from Spruce Creek came in with a two under par 70 they jumped in front of Lake Mary and beat us by only one stroke. This left our team heartbroken but that's how the game of golf goes"
Zach K- "The last tournament of the year was Regionals. We expected to win the tournament and then go to states. After the front 9 we were a combined 5 over and a couple back from Winter Park and Spruce Creek. On the back 9 we shot 1 over combined and came up one shot short. We were stunned, we came in with a 295 which we though was the number we thought would win. Our biggest rival Plant high shot 303 in their Region and won. If we would have made it to states I truly believe we would have won."
Even though the team's season was cut short by a stroke, the boys are still proud of what they accomplished this season. Next season don't be surprised if Lake Mary golf comes out hot to avenge their regionals loss.
About the Writer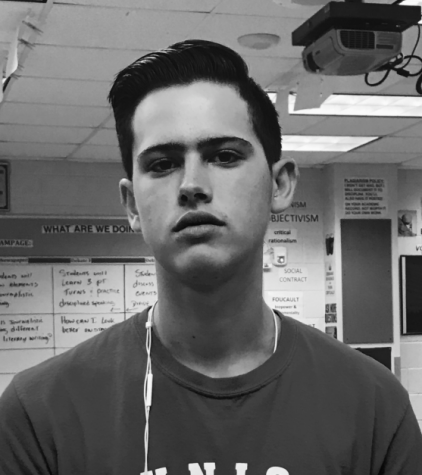 Max Janowitz, Journalist
Max J. The man, the myth, the legend. Through careful thought, he spreads positive messages to his community, classes, and most importantly, his country....