Horoscope: Love Forecast Edition
Avah M., Executive Editor
February 7, 2018
During the month of love, it's only natural to wonder how your personal romantic life will fare. In the spirit of nostalgia (because one day you'll reminisce about your high school relationships), here's your love life forecast as told by songs from the early 2000's.
Aries (March 21-April 20): We Belong Together by Mariah Carey
February is a month of healing for you, Aries. Sure, heartbreak is hard and rejection can be rough, but whatever you're feeling, just know Mimi has felt too. Take this time to work on yourself: connect with your friends, spend time with family, get a new hobby- anything that gets your mind off of your failing love life really.
Taurus (April 21-May 21): Crazy In Love by Beyoncé featuring JAY-Z
So you think you've found the one, Taurus? Well congratulations, but don't get too excited yet. It's perfectly fine to have total heart eyes for your lover, but becoming totally obsessed with them might cause some boundary issues. Really take some time to reflect on your relationship: infatuation and true affection are two different things.
Gemini (May 22-June 21): Oops… I Did It Again by Britney Spears
This month is all about heartbreak Gemini- well, it's really about breaking hearts. It's not like you try to attract anyone, but the admirers just don't stop coming and it's wrong to let an admirer's admiring go to waste, right? Of course, don't forget you'll eventually have to cut that admirer off (unless you develop genuine feelings). But at that point, all you'll have to say is, "Oops."
Cancer (June 22-July 22): Drops of Jupiter by Train
You're a loving person by nature Cancer, so it's no surprise that February is the peak time for your relationships. Use this time to focus on self-love too though: explore the world, read a book, buy a face mask. While it's important to take some time to solidify your relationship, it's more important to solidify your relationship with yourself and the world around you- don't limit yourself.
Leo (July 23-August 21): Better In Time by Leona Lewis
Let's face it: your love life has been pretty non-existent Leo. Don't get down yet though. Good things come to those who wait and whether you're giving yourself time to heal over the past or you're just not ready for commitment, your time for love will come. Keep taking things slow and remember: if it's worth it, the world will work it.
Virgo (August 22-September 23): Cry Me A River by Justin Timberlake
February is the time to drop the dead-weight Virgo. That's right, you know you're so over that (not-so) special person, so why not call it quits for good. Stop lying to yourself about your feelings and accept the truth: it's time to move on. Sure, breaking things off might be hard and the other person might be upset, but take notes from J.T. himself and tell them to cry you a river.
Libra (September 24-October 23): Don't Phunk With My Heart by The Black Eyed Peas
You crave honesty and straightforwardness Libra, but are you being honest with yourself? Use this month to communicate how you really feel (which is next to impossible but just try). Let your feelings free and don't be afraid to tell your partner how you feel sometimes. It's okay to be the neutral friend, but a neutral partner can seem impersonal.
Scorpio (October 24-November 22): Bye Bye Bye by *NSYNC
It's time for some spring cleaning Scorpio. That's right, it's time to put out that old flame that keeps haunting you. Sure, it was fun while it lasted, but it's just not what you need anymore. You're on to better things and that all starts with letting go of the past (which might take some time but you'll do it eventually).
Sagittarius (November 23-December 22): Good Directions by Billy Currington
The world works in strange ways Sagittarius, and this February it's working in your favor. Take this time to make things official with that special someone or solidify your current relationship. Take some time to reflect on what you really want during this season of love, because when there's a will there's a way.
Capricorn (December 23-January 20): Hella Good by No Doubt
You're all about living in the moment Capricorn, so enjoy everything this month brings you (in terms of love). It doesn't matter whether your current interest is just a fling or becomes your lifelong lover- just live in the moment. Just dance with the beat and if things don't end up how you expected, there's bound to be some sort of lesson in the end.
Aquarius (January 21-February 19): A Thousand Miles by Vanessa Carlton
The month of love is technically your season Aquarius, so take advantage of this time. Don't be afraid to take matters into your own hands: whether it's sending the first text or asking them on a date. You're naturally confident, so show it off (be careful to avoud arrogance though).
Pisces (February 20-March 20): Girlfriend by Avril Lavigne
Conventional is not your style Pisces, so it only makes sense that your love life is as unconventional as they get. Will you tell your crush you think their significant other is ugly and that's why they should date you instead? That wouldn't be the most insane thing you could do (no, really).
About the Writer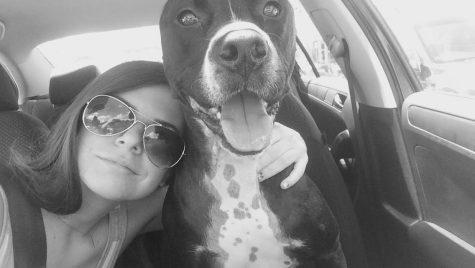 Avah M., Executive Editor
Avah M. is a junior at Lake Mary High School. She hopes to major in a general science and one day become a pharmacist. Avah dreams of moving to Colorado...