Interview with Mr. Davis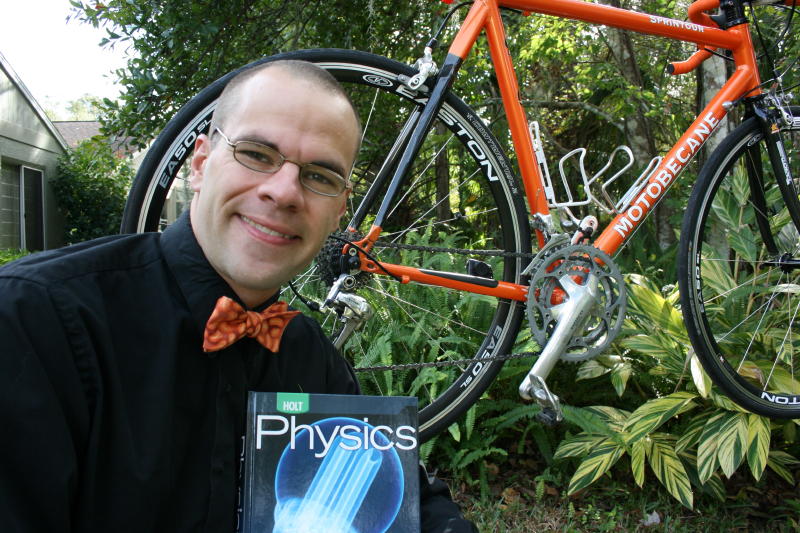 Lake Mary High School has an amazing Astronomy and Physics teacher, founder of "Club 7:10", and one of the Football Physics announcers. Mr. Davis is a very good teacher and also very funny, that after having him for Physics, students take Astronomy just to have him as a teacher again. Junior Emily Quezada said, "I want to have Mr. Davis again next year so I'll just take Astronomy"  He was kind enough to answer a few of my question.
1. What did you want to be while you were growing up?
"When young I engaged with building things with Legos or wood.  I enjoyed being outdoors and always appreciated my science classes.  I knew I wanted to do something related to space and it's exploration."
2. How would you describe yourself as a student in school and college?
"High school and college classes provided me opportunity to engage in unique and creative ways.  I enjoyed project based assignments because I could showcase the mastered content in ways that suited my creative methods."
3. What inspired you to be a teacher? When did you decide you wanted to be a teacher?
"In college I considered being a meteorologist. But after some soul searching, I decided to stay at the University of Florida to get my masters degrees in secondary science education."
4. What gave you the idea of doing "football physics"?
"Mr DeSanto and I arrived at the idea while announcing football games early in my teaching career. Between plays, we found ourselves commenting to each other about some of the physics that was happening in the "classroom" right in front of us. "Football Physics" was born!"
5. What gave you the idea of "club 7:10"? When did you come up with it?
"Extensive research has been invested into the benefits dancing and has shown dance a both physical and psychological benefits. This is because dancers use their body to express emotion and feelings. When dancing, an ample flow of mood-improving chemicals is released helping to elevate our mental state; even one lively dance session has been proven to reduced depression in comparison to vigorous exercise or listening to music. Additionally, while the physical movement of dance helps reduce stress, anxiety and depression, dancing with others also helps us feel more connected and social. Club 7:10 encourage social bonds and friendships which are key factors in improving our mood and mental health. And, Club 7:10 is just fun!"
6. What were your most favorite and least favorite subjects in school?
"I enjoy science classes, but am not very fond of classes that involve literature."
7.  How has teaching changed over the years? How has teaching changed your personality?
"I feel that over time I have become a less effective teacher (in my mind). I spend more time reflecting upon my teaching methodologies being I have much more experience teaching and it is easy for my to recognize my faults and areas that could use improvement. But the reality of the situation is, I am likely a more impactful teacher drawing on those experiences and reflections after willing to make change.  Teaching is very dynamic, and for those who care, it can be mentally rewarding… and challenging."
8. A lot of students were wondering, when are you planning to swim the Atlantic Ocean?
"Never. But I am thinking of a new adventure that will push my mind and body to a level that satisfying my drive for mental and physical accomplishment."
9. If you were offered a free two-way rocket ride, which planet would you want to go to and why?
"The physics of such scenario suggests that traveling to Mars via rocket propulsion would take about 9 months in each direction.  Considering my age and the fact that I have a family including two children that are just a few years from taking my classes (which I am looking forward to), I think I would decline."
10. If you were given the opportunity to send a student on a one-way rocket ride to a different planet, would you?
"If they promised to take the trip in an effort to further mankind's understanding of the Universe and utilize any gained perspectives/knowledge for good."
11. Have you ever had a physics experiment in class go wrong? If so, how bad was it and what happened?
"Our schools star defensive football player crushed an cinder clock over my chest with a sledge hammer while I laid in a bed of nails. There was no problem with that portion of the demonstration, however an oversight by me resulted in a portion of the cement block colliding with my forehead creating a laceration that required a trip to the emergency room and seven stitches."
12. How do you come up with your crazy physics experiments?
"If my mind thought is of it, I try to create it!"
About the Writer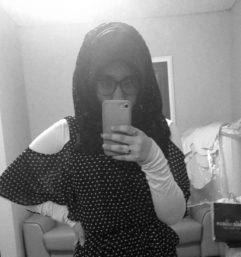 Zainab Mulla, Editor in Chief
Zainab is a senior, who aspires to go to UF and major in Computer Science. Zainab enjoys spending her time with her friends, watching t.v., and teaching....