Sanford's anti-impeachment inquiry rally.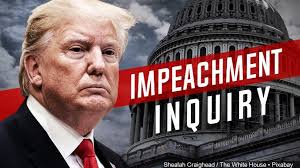 Sanford, Florida. —An anti-impeachment inquiry rally outside Rep. Stephanie Murphy's office in Sanford Thursday attracted a number of President Donald Trump supporters, but also a group of counter-protesters.
On one side of the street people held up signs that said 'Trump 2020' while a group across the street displayed a massive sign that read "Dump Trump."
The event was billed as a press conference calling on Murphy to drop her support for the impeachment inquiry against Trump.
Murphy called for an investigation after it was revealed that Trump may have tried to pressure Ukraine into digging up dirt on political rival former Vice President Joe Biden.